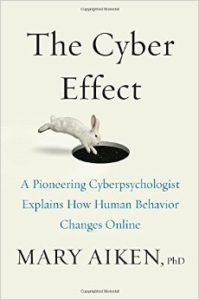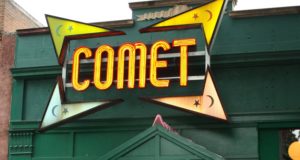 Past guest Judyth Vary Baker author of Letters to the Cyborgs: As Humans Become 51% Machine, Or More, Who Will Inherit the Earth?  described possible futures that lay before humanity as artificial intelligence exponentially develops from present day technology.
Two decades have passed since the initial human mass migration into cyberspace. Right now we have immediate access to the publicly gathered knowledge of human civilization and the self teaching potential is at its highest. In this what some call a post-human state, we are rewiring our psychology, reshaping consensus reality, the way we communicate and modifying our behavior.
With the many benefits of accessing and connecting via internet come a range of downsides within human behavior such as cyber-bullying, sadistic trolling, normalizing fetishes and checking our internet access devices 100s of times a day on average. Are latent human genetic traits finding new life in the cyber world?
Guest – Dr. Mary Aiken author of The Cyber Effect : A Pioneering Cyberpsychologist Explains How Human Behavior Changes Online.  She specializes in the impact of technology on human behavior, and has written extensively on issues relating to the intersection between humankind and technology – or as she describes it "where humans and technology collide".
Mary is an Adjunct Associate Professor at University College Dublin, Geary Institute for Public Policy, and Academic Advisor (Psychology) to the European Cyber Crime Centre (EC3) at Europol, and has conducted research and training workshops with multiple global agencies, from INTERPOL to the FBI and the White House. Her research interests include cyber-security, organized cybercrime, cyberstalking, technology-facilitated human trafficking, and the rights of the child online. She the Director of the Cyberpsychology Research Network, and is a member of the advisory board of the Hague Justice Portal – a foundation for international peace, justice, and security. Her groundbreaking work inspired the CBS television series CSI: Cyber.