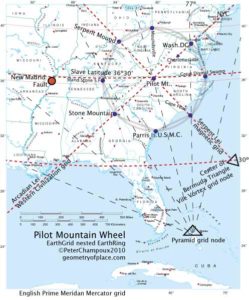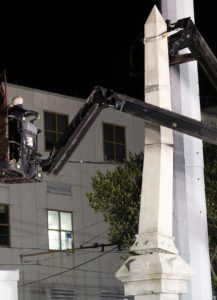 In the wake of calls to remove monuments at national battlefields and as cranes remove statues of Confederate generals, a shift is also taking place amid the telluric currents and ley lines. If you're a regular listener to this show, you know the monuments and statues are not randomly placed. In fact when our returning guest plotted them on the map a larger pattern emerged very quickly.
The telluric line of interest is known as the Acadian bandwidth. Cities and places such as Boston, New Haven, New York City, Philadelphia, Washington DC, Charlottesville, Atlanta, Stone Mountain, Georgia, and New Orleans are on this line. As you would guess, the Acadian ley line is full of monuments of various type imbuing consciousness that include the massive obelisk in DC and multiple memorials from various wars. Activity on this telluric line is lighting up right now with change of consciousness.
This is not by chance. The power structure that identified and placed the monuments, and statues to resonate in the communities are aware of the energy line influence on consciousness and are involved in orchestrating this shift right now. Notice
how this occured before the solar eclipse. Peter Champoux says during the solar eclipse the ley line energy temporarily stops flowing and its an opportunity to reset ley line energy influence.
There are many questions. What types of rituals will be conducted during this moment and by whom? What intention and type of consciousness will be competing as a replacement on this urban energy bandwidth?
Remember the unique occult research of past guest and author Matthew Delooze? He said "When we surrender our power to their monuments, we surrender our power to them and their masters. Its all about surrender and wanting to be a slave in this world." He also pointed out how freemasons within secret societies are implanting symbolism all over the planet right now, that are leading up to a certain day.
We're going to pull back and get a view from space while looking at the Earth grids and ley line bandwidths that carry a specific telluric current which correspond with the potential monument and statue removals.
In the past 8 years, we've discussed in depth the nature of leylines, telluric energy in connection with megalith builders with many guests such as Dr. Ross Hamilton, Dr. Konstantin Korotkov, Peter Champoux, Matthew Delooze and former professor at the University of Calgary Dr. Carmen Boulter.
Guest – Peter Champoux joins us again, he's one of the top ley line researchers. He's what's known as a gaiagrapher (maps the living Earth) and Earth-Keeper. His work brings the individual and community into relationship with our living planet. Discoverer of Earth Rings, he is a leading researcher in the field phenomena of ley lines, earth grids, and natures geometries of scale. Since the 1990s, Peter has turned his originally simple geographic observations into the evolving spriitual art and science of what he terms Gaiagraphy: the patterns of our living, sentient Earth in alignment with each person's unique path through life. Internationally known as an authority on earth grids, Peter writes on nature's pattern language; maps, gaiagraphic studies for people, place and purpose. Peter's books include Gaia Matrix, Ark of Antero and Moon Rivers.