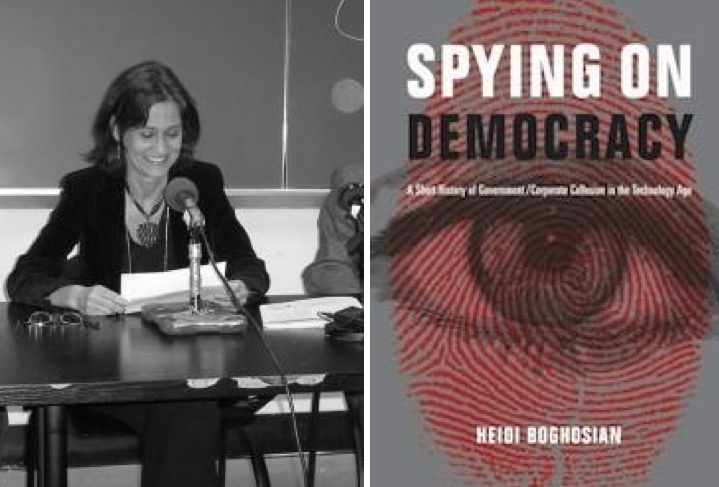 Educator and activist Cindy Pikoulas gives an update on the push back against Common Core Education Reform.
—–
We're living in a country with full knowledge that its government and corporations have been allowed to access private data of its citizens. A critical breach in any democracy. Personal computer data, financial and travel data, information about your relationships, your buying habits, what you eat are some examples of what is being collected and stored in data bases about you. How is knowledge of the surveillance state effecting people's behavior, our culture and the so-called democracies around the world?
Our guest Executive Director of the National Lawyers Guild and co-host of Law and Disorder radio attorney Heidi Boghosian has written a powerful book titled Spying on Democracy: Government Surveillance, Corporate Power, and Public Resistance. She has detailed how the government acquires your information from many sources such as telecommunications companies and compiles a digital dossier on you. All of this information can then be pulled up for the authorities at any time without your knowledge. The media is saturated with stories on the many aspects of government surveillance and corporate spying. Many are outraged, some are indifferent and meanwhile corporations are making profits, big profits. Some argue we've traded our privacy for the two magic selling points – security and convenience. Are we to blame? Did we create this ourselves? If so, could we undo it or is it too late? But also, what has it done to our ability to dissent and become effective activists?
Guest – Heidi Boghosian, executive director of the National Lawyers Guild. She is the co-host of the weekly civil liberties radio show Law and Disorder on Pacifica's WBAI in New York and over 60 national affiliates. She received her JD from Temple Law School where she was the editor-in-chief of the Temple Political & Civil Rights Law Review. She also holds an MS from Boston University and a BA from Brown University.