We recently talked briefly about the intersection of crowds, leylines, monument worship, sinister alters, and occult sun worshipping dates, specifically the summer solstic known as Litha. The Fourth of July is a federally recognized holiday in the United States commemorating the adoption of the Declaration of Independence on July 4, 1776. The Perfectiblists were created in the year 1776, you might know them by the name the Illuminati. The first few days of July are also known to be recognized as a New Year's Day by some more private groups. July 1 is the cross quarter and the beginning of a fiscal year.
UPDATE: From the Khaleej Times – Largest Ferris Wheel In The World Rises Near Dubai Coast. Each rim section weighs roughly the same as two Airbus A380 aircraft …". The wheel rim sections are connected to the hub and spindle by a total of 192 heavy-duty cables, each of which is comprised of over a hundred separate wires that are pre-tensioned with up to 300 tonnes of force.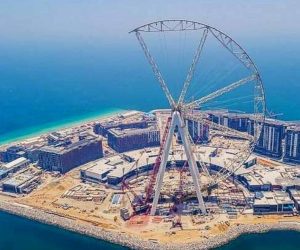 We listen back to key past interviews with guest, occult researcher and author Matthew Delooze who when visiting Egypt discovered an ancient painting in the Temple of the Goddess Hathor, known also as the Temple of Dendera that looked like the flag of the United States. Matthew also found out the people in this ancient culture were also led by their Egyptian heirarchy to celebrate the 4th of July. Matthew discovered something very interesting, stars and stripes, all seeing eyes, and celebrating July 4 in ancient Egypt. Many researchers of this realm know that religions simply put their calendar template over existing occult holidays.
Matthew's message is clear. He says, as humans, we've surrendered our power to monuments and through universal law, we've agreed to be a slave in this world. How can this happen you ask? We've gone into depth on this show about the realm of subtle energy, positive orgone energy, deadly orgone radiation and the measuring of intention, along with the effects that intention has in this physical reality on the quantum level. Author of the book Reality Shifts: How Consciousness Changes the Physical World, Cynthia Sue Larson went into that topic in an interview earlier this year.
Where your attention goes, your energy flows. Imagine the power of intention cast by millions who are inadvertently directing their mass consciousness on to ancient occult monuments masquerading as symbols of freedom? A perfect cover you say? Matthew Delooze thinks so. He says we're now robotically programmed to carry out and spiritually interact with not only the fourth of July holiday, but we're forced to willingly participate during other holydays, or holidays such as Ishtar or Easter, Valentines Day, Thanksgiving and Christmas to name a few of the prominent cross-quarter points. Matthew says, there's a reason why people are conned into worshipping and giving up their energy because if they knew what they were really worshipping, they wouldn't do it. How is this any different from idolatry? Not much has changed in using the ancient Egyptian tactics of harvesting and manipulating the spiritual energy.
Most of us who carry and frequently use a personal digital communication device already know how easy it was for people to be manipulated on a mass scale. Northern Californians can't seem to effectively fight against a policy that will allow for thousands of 5G cell towers to be installed on street lamps, trees, in their small town. For what? So you can send video instead of texting or both. There's a price to pay for integrating too quickly with AI, aside from the radiation fall out, and brain atrophy, sleep disorders, ADD. Our current interface with personal mobile communication device sends a clear message to the corporate business minds. Which could be translated to: please put a chip in me, this tiny phone is too cumbersome.
Before we get into this first interview, I want to mention that the quality of this audio isn't that great. It was the clearest connection I could get at the time. Sadly, our connection was repeatedly disconnected, and at times, the local Disney radio station started to bleed in to the phone line. That with Matthew's accent make for a challenging listen, but please do listen carefully. To some this interview is a bitter red pill.
We hear part of another earlier interview with Matthew, the audio is much more clear and we're talking about his research into Ferris Wheels. This is an area of research that very few talk about. Some programs discuss this topic of leylines and structure placement as mysterious and intriguing without going into the topic of human energy fleecing as a currency.
Guest – Matthew Delooze, occult researcher, his work can be found at MatthewDelooze.com. Matthew is the author of 3 books, You Will Be Wiser When You Are Older", "The Stars Are Falling – Reasons To Believe We Are Enslaved By The Serpent" and "Is It Me For A Moment: Breaking The Serpent's Spell."